Are you looking for a vegetarian restaurant in Genoa, but you don't know which one to choose?
If you don't know me, let me introduce myself, I'm Andrea from Discover Genoa, and in this article I'll tell you which, in my opinion, are the best vegetarian and vegan restaurants in Genoa, Italy.
Read the article through to the end to find out all of them.
What are the best vegetarian restaurants in Genoa?
If you've spent your whole life eating meat, you might be surprised at how much
vegetarian cooking Genoa has to offer.
From a fast food restaurant that launches veggie burgers into the air, to a restaurant that "veganizes" your favorite foods, these are the top five vegetarian and vegan restaurants in Genoa.
Soul Kitchen Genoa
Located in the historic center of Genoa, Soul Kitchen is a curious restaurant: the idea of the owners was to combine traditional cuisine (meat and fish) with vegetarian cuisine, creating two different menus to satisfy all palates.
The mission of this restaurant is to allow vegetarians to dine in a traditional restaurant and carnivores to get closer to this 100% vegetable cuisine.
The atmosphere is relaxed and quiet, the service attentive, precise and fast, the dishes beautiful, creative and blended with interesting flavors.
La Cucina di Giuditta Genova
La Cucina di Giuditta is a former restaurant now transformed into a delicatessen located in the Foce district of Genoa, serving food prepared with natural, organic and high-quality ingredients.
The restaurant is nice and has a few seats both inside and outside and offers a tasty and varied cuisine that combines traditional recipes with creative and interesting alternatives.
The staff is kind and friendly, the prices are not among the cheapest, but everything is proportionate to the quality of the products and service offered.
Rosetta
Rosetta is a vegetarian restaurant located in Piazza delle Erbe in Genoa, one of the most famous squares in the city.
It is a small but cozy room with seating even in the square in front.
I recommend the single course, where you can taste the various options offered as an appetizer (soups, rice with vegetables, barley, etc.), main dish (vegetarian meatballs, vegetable pies, etc.) and side dish (cabbage, cabbage, baked potatoes, etc.).
Highly recommended!
Ombre Rosse
Located in a hidden garden in the heart of the alleys of Genoa, le Ombre Rosse is the best choice for a dinner in a cozy atmosphere.
It has tables both outdoors (you'll eat in an elegant garden surrounded by flowers and embraced by a panorama sprinkled with roofs and a starry sky) and indoors (many small rooms tastefully decorated with books, lamps and paintings).
The cuisine served is traditional (trofie with pesto, vegetable pies, etc.) combined with creative dishes (an example being that of pistachio and almonds with a fresh note of lemon) with particular attention to vegetarian cuisine.
The staff is kind, helpful and very professional, the price is mid-range. Rated 10, no doubt.
Infusion Genova Cooking YogaStore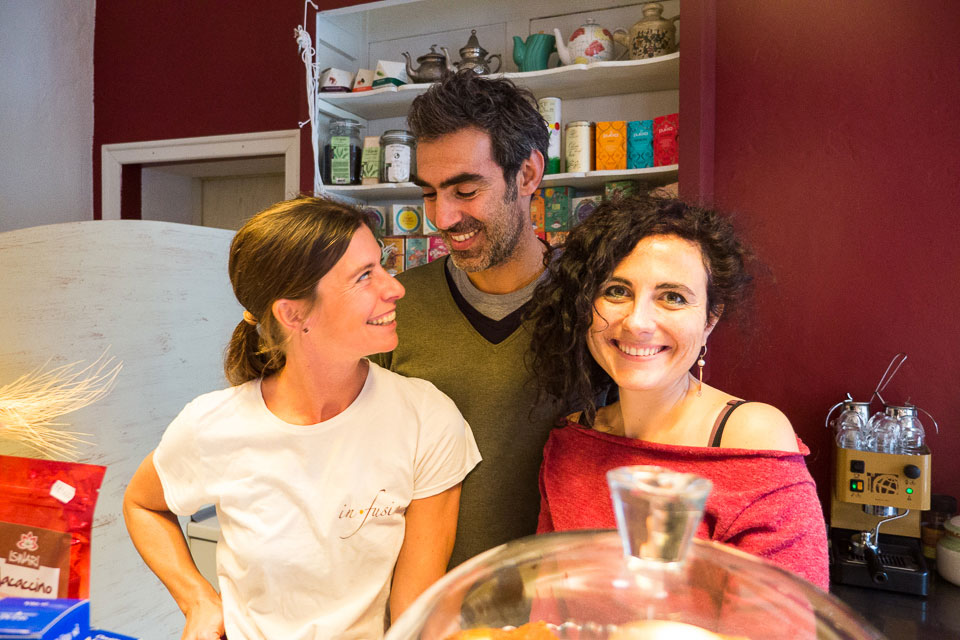 Infusion is an organic vegan restaurant that offers a limited choice (very light and delicious saucers) but of high quality.
It is open from 9.30 until 18:00, and is therefore also an ideal choice for breakfast or a
vegetarian aperitif.
If you're going to have lunch, I suggest you try the single course, consisting of the salad of the day, a first course and a second course of your choice.
Ideal for those looking for a relaxing and quiet atmosphere at the edge of the ethereal.
Conclusion
Well, we've come to the end of this article about the best vegetarian restaurants in Genoa.
Which one is your favorite? Leave a comment below to let me know.
Need more inspiration? Read the article about the best restaurants in Genoa for quality and price.
Enjoy your meal 😛
Andrea