Are you planning a short trip and you're wondering what to see in Genoa in one day?
I'm a local, so you have no idea how many people ask me which are the best places to eat, the best attractions and the best tours to visit Genoa in one day.
You must know that Genoa is a beautiful city.
In every corner of the streets, in every little alley, you just need to direct your gaze to the sky to notice facades of sumptuous buildings that you won't notice if you are distracted and, if you are curious enough, you will find that everywhere there is something that will catch your eye and will leave you speechless.
Because of these many beautiful things to see, you have to make choices, especially if you don't have much time and you have decided to visit Genoa in just one day.
I'm Andrea of Discovergenoa.com and I will come along with you on this quick but beautiful trip to explore the city.
An average of more than 23.000 people a month read this article. One of them is you, I just wanted to thank you.
Before you start, look at this short video to get an idea of what to see in Genoa 🙂
So, what is there to do in Genoa Italy?
Let's go: we start from Genova Brignole train station!
What to see in Genoa in a day: the perfect walking tour to visit Genoa
Piazza della Vittoria Genoa
10:00 a.m.
Keeping Genova Brignole train station behind you, you'll see a big city square in front of you: Piazza della Vittoria.
Right in the middle of it, surrounded by the greenery, there is a massive triumphal arch dedicated to the Genoese who fell during the First World War.
In the background you can see Caravel's Staircase where beautiful flower decorations represent the three Christopher Columbus' caravels.
Via XX Settembre: the shopping street
10:30 a.m.
Turn right and proceed to via XX Settembre (the shopping street) that connect Piazza della Vittoria with Piazza de Ferrari (the heart of the city).
Walking up to via XX Settembre, you will see prestigious shops, elegant cafés and you will walk under the famous Ponte Monumentale (the monumental bridge).
Keep your eyes upwards while you walk through the covered walkway; you will notice wonderful ceilings and you will see the characteristic colours of the ancient Genoa nobility everywhere: black and white.
Piazza De Ferrari: the central square
11:30 a.m.
After having walked for about 1 kilometre down a street with a gentle slope, you will finally wind up in Piazza De Ferrari, the central square and the very heart of Genoa, where a big bronze circular fountain is located in the middle.
If you look up at the sky and turn your gaze to the right and to the left, you can enjoy four buildings with an eclectic style (that today are companies and institutional offices), Palazzo Ducale (used for exhibitions and conferences) and the famous opera house, the teatro Carlo Felice, destroyed during the Second World War and entirely rebuilt during the postwar period.
Cattedrale di San Lorenzo
12:00 pm
At this point go straight on towards via San Lorenzo, a long street that goes slightly downhill and that runs along the famous Cattedrale di San Lorenzo (the main cathedral of Genoa, made of black and white marble with two big lions in front of the entrance).
The cathedral was built between 1100 and the end of 1300; it became famous because it was bombarded by the English fleet during the Second World War.
In spite of the impetuous impact, the bomb broke through the ceiling, but it didn't explode and today it's still inside the beautiful cathedral (yes, you can see it and even touch it 🙂).
Would you like to know something interesting?
I will quickly tell you the legend about San Lorenzo's dog.
To the right of one of the two doors to access the church, if you get close, you will notice a dog carved in marble.
According to the legend, during the building of the cathedral there was a small dog always wandering around the sculptors keeping them company during work.
During the last phase of construction, the dog got lost and nobody found it anymore.
The sculptors wanted to remember it by dedicating a small sculpture to it on the cathedral's facade.
A story of loyalty carved in marble.
A typical lunch in the old town
2:30 p.m.
In addition to what to see in Genoa in one day, I would also like to recommend where to eat.
After this walk, if you need a lunch break, I recommend one of my favorite typical restaurants, Zimino.
Going down Via San Lorenzo, once you're almost at the end of the avenue, take a small alley on the right (Via di Canneto il Curto) and walk down it for about 100 meters; turn right and you'll reach the Piazzetta delle Cinque Lampadi.
Here you will find a small and typical restaurant, which I recommend to refresh yourself before resuming your walking itinerary.
The restaurant is called Zimino and, if the season permits, you can eat outside while enjoying the unique atmosphere of old Genoa.
If you want to be prepared, read which are the 10 typical Genoese dishes.
The Porto Antico
1:30 p.m.
Okay, are you ready to carry on?
Go back to via San Lorenzo and continue downhill: you've finally reached the Porto Antico.
This area, that today is residential, is a part of the well-known Port of Genoa (where the famous Aquarium is located).
The Porto Antico hosted the World Expo 1992 (for this reason it's usually called "Expo"), when it was completely renovated following the project by the architect Renzo Piano for the occasion of the 500-year celebration for the discovery of America.
The alleys and Fabrizio De Andrè
2:30 p.m.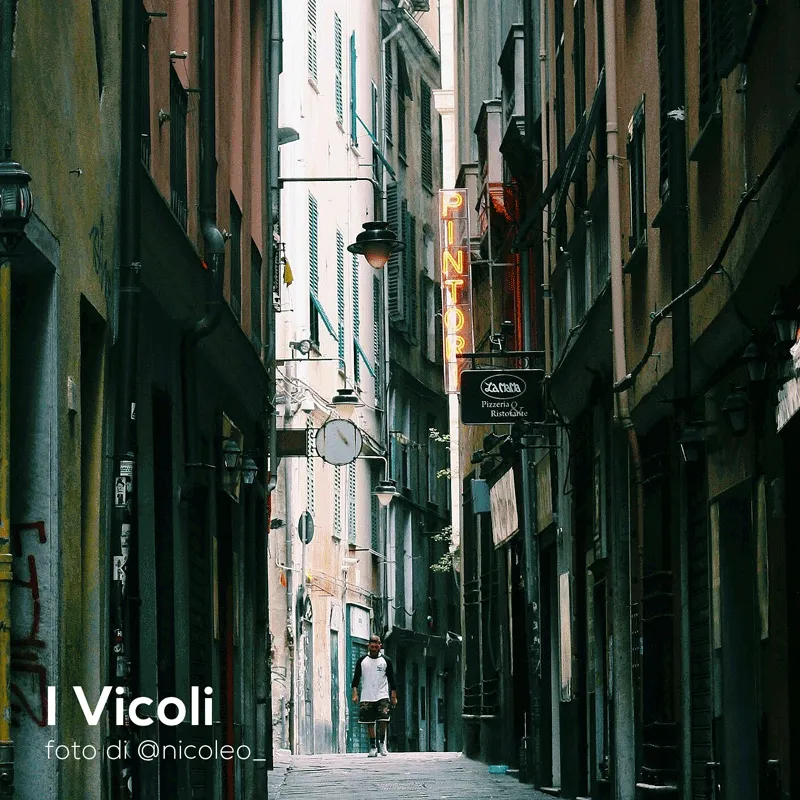 Have you ever heard of caruggi?
Caruggi is the word in the Genoese dialect that describes the "peculiar and narrow covered walkways and shady alleys of lots of cities and little towns of the Italian Riviera".
The Old Town of Genoa is made of hundreds of caruggi, but in this short guide I will suggest to you the ones I think are the most famous and fascinating.
From the Porto Antico (precisely from piazza Caricamento) enter via al Ponte Reale.
If you walk for 100 metres, you will reach the amazing piazza Banchi where you will see the famous Loggia della Mercanzia, a beautiful building built during the Middle Ages, where the negotiations of merchants and bankers took place.
BONUS: Snack time in Romanengo confectioner's shop
A short break.
Now that you are here, you should stop in Romanengo confectioner's shop, one of the most prestigious pastry shops in Italy that opened during the early 19th century.
Go ahead and leave the Loggia della Mercanzia to your left: after100 metres you will reach piazza Soziglia, where you will see Romanengo confectioner's shop to your left.
Go in and enjoy the atmosphere of a distinguished sitting room where you can taste chocolates, candied fruits, fondants, fruit and flower preserves, after dinner sweets, and during springtime and summertime, the famous rose cordial.
Ok, after this sweet break go back to the tour.
Go back to piazza Banchi; once you're there, turn right and enter via San Luca, one of the most fascinating and picturesque alleys of Genoa.
Go ahead until you reach via del Campo, the famous paved street known to be sung about and lived by Fabrizio De Andrè (if you don't know the song, you can click here to hear it).
If you love Faber, you will have the chance to visit the museum about his music and drink a coffee in La cattiva strada (a café in front of the museum called after one of his famous songs).
Annunziata Church
4:00 p.m.
When you have arrived at the end of via del Campo, turn right.
Walk for about 200 metres and reach Piazza dell'Annunziata where you will see a church.
Well, if you love churches or not, you should go in.
From the outside it seems like a normal cathedral, but I guarantee that the inside will leave you speechless.
Via Balbi and the Palazzo Reale
4:30 p.m.
After having visited the church, go out and look to your right.
Do you see that uphill street?
That is via Balbi, one of the most important streets of Genoa, where the Palazzo Reale and the offices of University of Genoa are located.
Walk along it for about 300 metres.
At a certain point turn left and enjoy the amazing hill of Santa Brigida that in addition to the garish colours, has an interesting story: the one about the Augustinian nuns from Sarzano.
The legend tells about the cloistered nuns who came to this spot of Genoa in order to build a cloister dedicated to Santa Brigida.
The cloister, unlike all the others, was invented to cohabit with the friars (both cloistered).
This "forced" bonding was a temptation and it caused suspicion, so Pope Clement VIII sent all the friars away in 1600.
What was the outcome?
A lot of empty space was left, the nuns decided to sell the land and via Balbi was built two centuries later.
Via Garibaldi, World Heritage Site
5:00 p.m.
This is certainly my favourite part of Genoa.
From via Balbi go back to piazza dell'Annunziata, pass through via Paolo Emilio Bensa and enter via Cairoli.
Go ahead and reach via Garibaldi, my favourite street, that is also a UNESCO World Heritage Site.
It's 250 metres long, 7,5 metres wide and completely closed to traffic.
Entering via Garibaldi, you will explore the history of my city.
You will see on both of the sides of the street elegant and sumptuous buildings that belong to the ancient seigneury of Genoa (I recommend you to go to the terrace of Palazzo Rosso, it's something unbelievable).
The Municipality of Genoa arranges Rolli Days three times a year (in September, April and May). They consist of two weekends when some buildings are completely open to the public.
I hope you can be in Genoa during that time of the year, because it would be a unique opportunity.
Genova from above: Spianata Castelletto
6:30 p.m.
Ok, now you have almost seen the entire city centre of Genoa, but you still need to see one thing: the astonishing view from the roofs of Genoa from Spianata Castelletto.
You will quickly get there: reach piazza Portello (if you are at the end of via Garibaldi turn left and you are there) take a lift (yes, you understood correctly, a lift in a rock 🙂) that will bring you in a few minutes to Spianata Castelletto, a place where you can enjoy a beautiful view on the Old Town, the Porto Antico and the Lanterna.
The best place to drink a coffee or (weather permitting) eat an ice-cream.
Don't miss it, it will make you fall in love with the city.
You will see the history in front of your eyes: the old and the new blending together and creating how Genoa is today.
Where to eat in Genoa
8:00 p.m.
If you still have time to eat something, I will suggest three of my favourite restaurants right in the Old Town.
Trattoria dell'Acciughetta
The first one is called Acciughetta: when you enter the restaurant, it will seem to go back in time and explore the history of Genoa.
Stone walls, young staff and typical dishes. Excellent price/quality ratio.
Trattoria Rosmarino
If you are looking for something less rustic and more sophisticated, I recommend Trattoria Rosmarino.
Known as one of the best restaurants of Genoa, the perfect price/quality ratio.
Delicious and refined typical food and competitive prices.
If I have convinced you to go, you should make a reservation, because it's often really crowded (especially during weekends).
PEsciolino
Do you love seafood?
Then you should go to PEsciolino.
An inn run by very nice people, located right in the middle of the city centre.
The menu changes almost every day.
Look what it offers today: Locanda Pesciolino
Where to sleep in Genoa
10:30 p.m.
If you are planning to visit Genoa, you must know that it's basically impossible to find a free parking space in the central area.
So, if you are travelling by car, I suggest finding a B&B or a hotel that offers a parking service.
Discover here the best B&B in Genoa, Italy.
What to do in Genoa for a day: Conclusions
Genoa is a stop-over, most of the people stay one day and then leave.
That's a pity because this city has a lot to offer.
If you have 3 or 4 days available, you will have the chance to see different thing every day.
I have tried to sum up everything you can see in Genoa in one day.
If you follow the guide step by step, you will be able to visit everything in one day.
Otherwise, if you have decided to stay a few days more, take a look at these tours:
I hope you liked this article.
If you did, do you mind clicking the like button down below?
Thank you so much, 🙂
Andrea
PS We created a great design so that you can bear in mind the 10 things to see in Genoa in one day 🙂
Click on the picture to download it!