Visiting a city like Genoa with your kids is an unforgettable experience for the whole family.
Not only Città dei bambini e dei ragazzi (City of Children) or Acquario di Genova!
With this guide, you will discover many other things to do.
The centre of Genoa, unlike many other Italian cities, is not so large and can be easily visited on foot or by public transport.
Here, the main points of interest are located only a stone's throw from one another. This is a great advantage, especially if you travel with your children, since you will be able to enjoy the city without losing too much time on the move.
Hi! I'm Andrea from Discover Genoa, and with this short guide I will give you a few tips about visiting Genoa with kids, both if you stay for one day or a whole weekend.
I have tried to list all places of interest following a sort of itinerary (most of the attractions for kids are located next to one another, in the Old Harbour area).
Following this guide, you will find out where you can take your children in Genoa, moving from one attraction to the other without losing time in going back and forth across the city.
Before we start, watch this short video, to get an idea about what to see in Genoa.
Are you ready? We begin with Città dei Bambini e dei Ragazzi!
Genoa for Children: 10 Things to do in Genoa that both Adults and Kids Will Love
Città dei Bambini e dei Ragazzi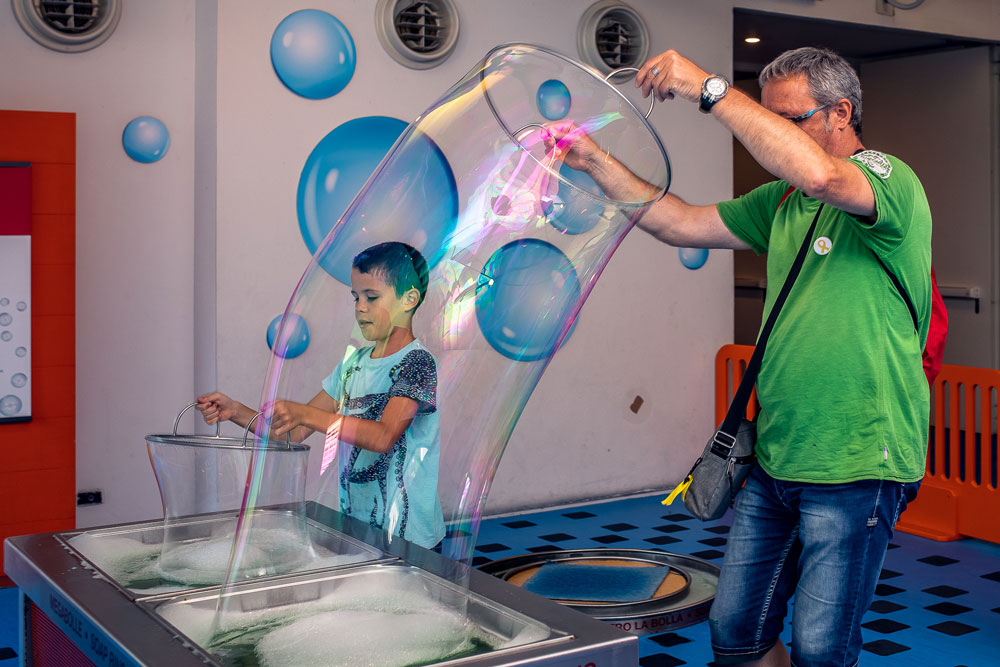 The City of Children is a facility where your children can learn many things about science and technology while having fun.
It's a large play area with over 3,000 square metres devoted to children aged 2 to 12 years old.
Here kids can touch, observe and experiment on various topics.
Città dei bambini is divided into three areas:
1) The first one is devoted to children aged 2 to 3 years old, who can play and discover the world here. They can explore a cave, enter an enchanted grove, and cross a river walking on a little bridge.
2) The second one, for kids from 3 to 5 years old, allows the little heroes, equipped with a helmet, to be part of a real kids-oriented construction site, complete with cranes, wheelbarrows and building blocks.
3) Finally, the third one is devoted to discovering: here, children aged 6 to 12 years old can have interactive experiences and learn about physics, biology and technology.
Young scientific minds can experiment with water, while creative kids can express themselves freely, drawing on touch screens.
Therefore, if you come to Genoa with your children, you cannot skip this step.
Città dei ragazzi e dei bambini is open every day, all year round, except on Mondays.
Watch the Dolphins at Acquario di Genova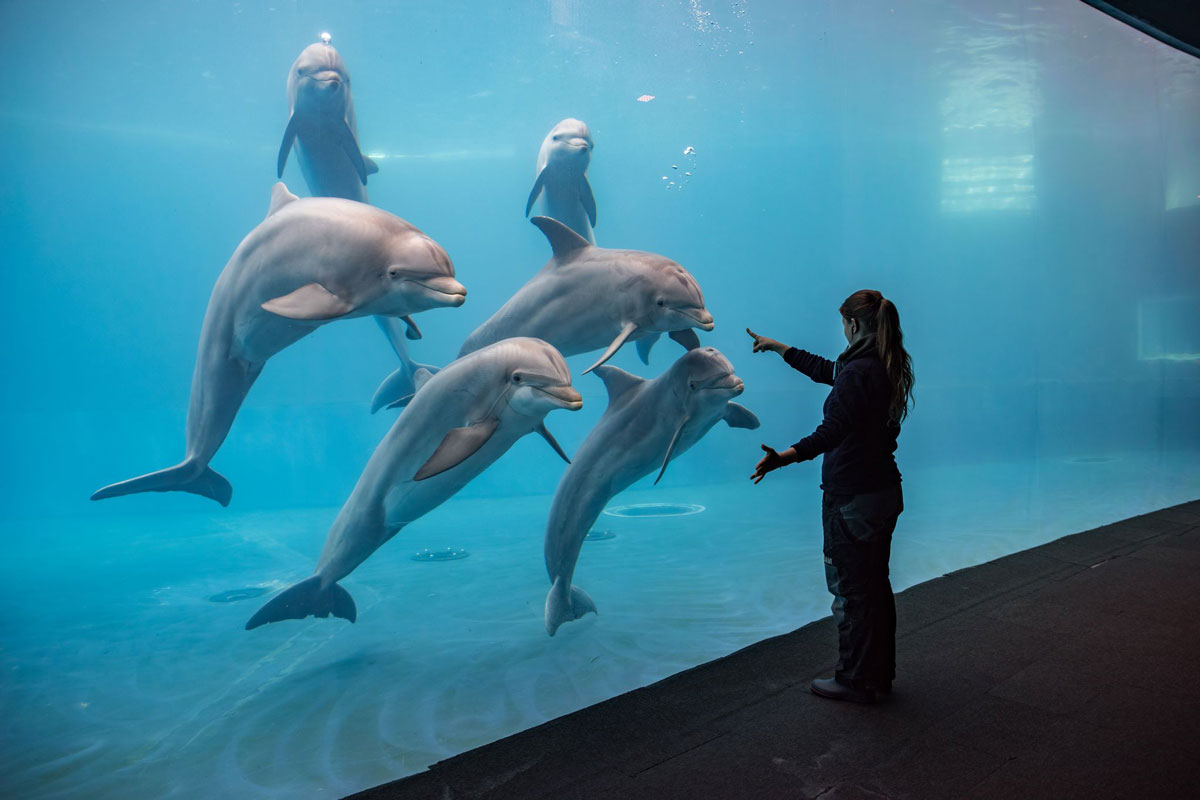 By now, it has become the symbol of the city: it's Acquario di Genova, with its 70 exhibits plus 4 open-air tanks in the Cetacean Pavilion.
The exhibits host many animals of 400 different species, including fish, marine mammals, birds, reptiles, amphibians and invertebrates, and recreate the natural environment of each species for educational purposes.
Here you can watch dolphins, sharks, penguins and even touch the manta rays.
The Aquarium even has an area dedicated to Nemo!
You can meet Nemo, the little fish, and his father Marlin, but also Dory, Gill, Bloat, and all the other characters of the beloved Pixar movie.
This is the ideal place to lose track of time and be filled with wonder. Believe me, you will feel like a child again.
My childhood memories at Acquario di Genova are something sensational. That is why I recommend that you bring your kids here while they are little. They will never forget it!
My advice is to buy the tickets online, in order to avoid (long) queues at the ticket office.
Enter a Tropical Forest: The Biosfera
In the Porto Antico area, next to Acquario di Genova, there is a spectacular structure where you can get to know and learn how to protect the beauty of tropical forests: the Biosfera (Biosphere).
It's a 'bubble' in glass and steel, designed by the Genoese architect Renzo Piano in 2001 and housing over 150 species of plants and animals.
Entering this botanical garden on the water, you will meet tortoises, fish (including piranhas!), insects and colourful birds.
It will feel like being in the middle of a tropical forest!
Admire the Pirate Galleon
Right next to the Aquarium, you will find a faithful replica of a 17th century Galleon. Actually, it was built in 1986 for 'Pirates', a film directed by Roman Polanski.
In my opinion, the ship is fascinating from the outside, but not particularly interesting inside.
The tickets cost €6.00 for adults and €4.00 for children.
I suggest you only have a look at it from the outside. It's so fascinating that, visiting the inside, your children may be disappointed.
Get to Know Christopher Columbus at Genoa Maritime Museum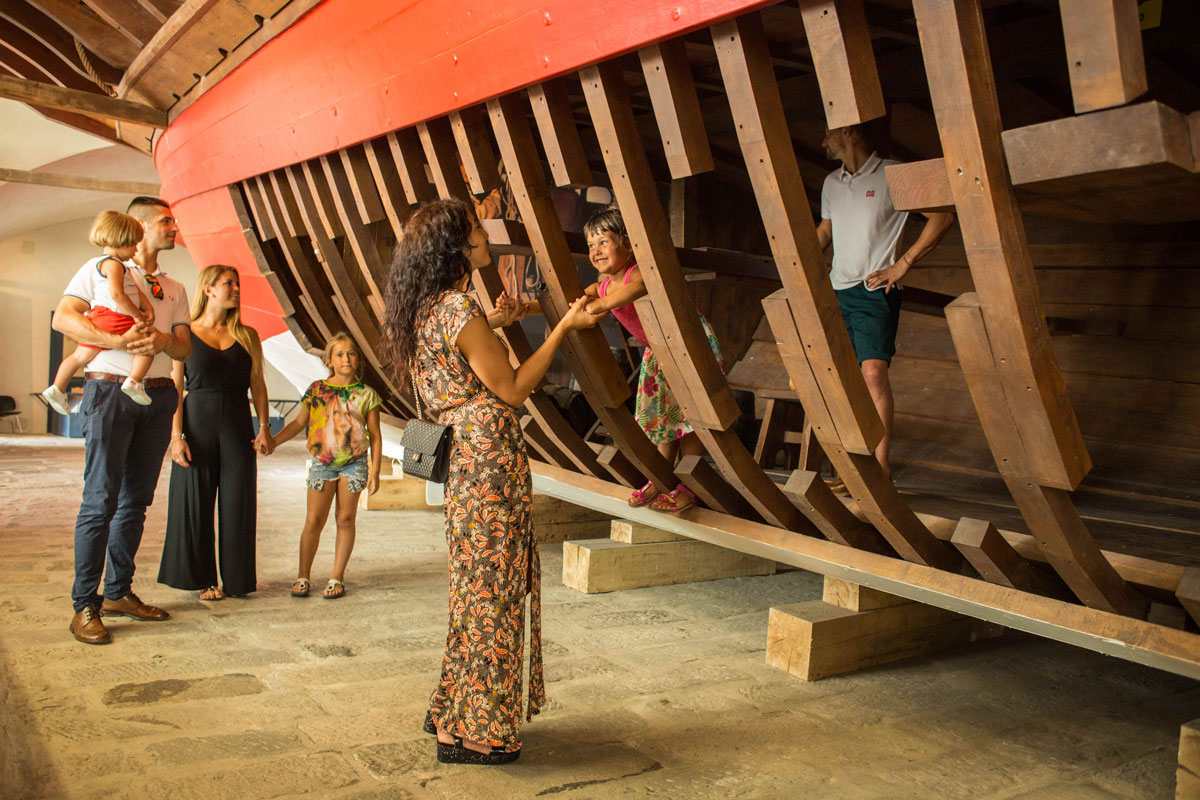 Besides Acquario di Genova and Città dei Ragazzi e dei Bambini, there is a peculiar museum: Museo del Mare (Maritime Museum).
I visited it for the first time three years ago, and I must admit I remained speechless.
Don't be fooled by the word 'museum', because it is much more than that! It's an interactive experience, very funny both for you and your children.
When you enter, you will be surrounded by 23 interactive and very interesting rooms, where you will learn the meaning of the sea and of travelling in all the different ages.
You will have the chance of 'trying' life at sea first-hand thanks to the interactive attractions. You can learn more about the history of Genoa (a maritime republic and home to Christopher Columbus) and explore my favourite room: the exhibition 'La Merica', telling the story of the voyage of our ancestors towards America.
The cherry on top is going to the roof of the museum, on the fourth floor, and enjoy the magical and quiet view over the whole city.
Simply amazing!
Operate a Real Submarine
Next to Museo del Mare, you can admire the magnificent Nazario Sauro submarine.
On board the submarine, you and your kids can experience in person the living conditions of the submariners.
You can try the controls on the submarine and learn about the nautical environment.
Look at Genoa from Above
Still in the Porto Antico area, a few steps away from Museo del Mare and in front of the famous Eataly restaurant, there is the Bigo, a panoramic lift from where you can enjoy a 360° view over the Port of Genoa.
Once you are inside, the lift will go gently up, up to 40 meters in height.
From here, you will have a breath-taking view: on the one side, the city, with its ancient palaces, the caruggi (narrow alleys) and the belfries towering over the slate roofs; on the other side, the Porto Antico and the sea.
The lift is made entirely of glass and it doesn't have air conditioning.
I warn you: in the summer, it will be pretty hot.
But I think it's worth it!
Hop on the Miniature Trains Pippo and Pippetto
The miniature trains Pippo and Pippetto are the perfect choice to visit the most beautiful places in Genoa while your children have fun.
The miniature train Pippo starts from Acquario di Genova (in the Porto Antico area) and you will have the chance of visiting all the most important monuments and have the most interesting glimpses of the city, including Piazza De Ferrari (the central square in Genoa, with its large fountain), Via Garibaldi and the panoramic area called Carignano, offering a striking view over the port.
If you wish to tour the old town, you must take the miniature train Pippetto, which will go into the historical streets of the city.
It's an original way to explore Genoa and look at the city from an out-of-the-ordinary perspective.
The rides on the miniature trains Pippo and Pippetto last 45 minutes and start every day from 10:00 a.m. to 5:00 p.m., from March to November.
During the other months, they are active only on Saturdays, Sundays and public holidays.
The tour costs €7.00 for adults and €3.50 for children.
Climb Trees in Perfect Safety: Parco Avventura di Righi
If you still have the strength to follow your little pests, you can go to the Parco Avventura di Righi (Righi Adventure Park), located in Righi (an area on the hills of Genoa), a few kilometres from the city centre.
Here you can climb from one tree to the other, let yourself be carried away by the pulleys and live an adventurous experience in perfect safety.
Discover the Animals at Museo di Storia Naturale
About 300 metres from the train station of Genova Brignole, there is one of the most interesting museums in Genoa: Museo di Storia Naturale Doria (Doria Museum of Natural History).
It's an important museum hosting over 3 million specimens of plants and animals, brought to Italy in the 19th century by various captains and explorers.
What are the most fascinating things in the museum?
In my opinion, the insects (there are millions of them) and the skeleton of a fin whale, about 20 metres in length: the whale died in 1878 and was found on a beach in Monterosso (La Spezia).
It's a great idea both for adults and children.
Where to stay in Genoa with kids
If you are planning to visit Genoa with your family, you must know that finding a free car park in the city centre is next to impossible.
If you travel by car, I suggest you look for a B&B or a hotel offering a car park service.
I suggest this one: Genoa Suite Art, which is perfect for families.
Conclusions
If you intend to visit Genoa with your kids, I hope I have given you some interesting ideas besides Acquario di Genova and Città dei Bambini e dei Ragazzi.
I would be very happy if you would leave a comment to this post: questions, constructive criticism and remarks are always appreciated.
Take care,
Andrea