Are you leaving for a cruise from the port of Genoa and don't know where to leave your car? Are you looking for an indoor parking lot with 24-hour video surveillance? Or one that allows you to keep your keys with you during your cruise?
You've come to the right place. I'm Andrea from Genova Turismo, a Genovese DOC, and in this article I'm going to tell you about what are, in my opinion, the 4 best Genoa cruise parking, located right near the embarkation terminal for your MSC cruise.
Are you ready? Let's get started!
Where to park in Genoa for cruise?
The Genoa cruise ship terminals are Ponte dei Mille and Ponte Andrea Doria and are located in a busy area of the city where parking is rare. However, if you need to park for your cruise, you will have no problem finding a spot.
The prices of different parking lots vary depending mainly on the distance from the terminal and the services offered.
Let's see together which are the best long term parking lots for cruise passengers.
Lanterna Parking Genova
The best cruise parking Genoa for quality price
Lanterna Parking is a great parking lot for those departing from Genoa for their cruise.
Located about 2 km from the MSC embarkation terminal, by parking at Lanterna Parking, you will be escorted to the ship in a comfortable 9-seater van (and they don't make a fuss even if you have a lot of luggage 😉 ).
The shuttle service is free from 08:30 am to 2:30 pm, while after 2:30 pm you can reach the embarkation piers by contracted cabs at a cost of €10.
It has indoor parking spaces in a facility controlled by 24-hour video surveillance cameras. Unlike other Genoa cruise parking lots, at Lanterna, once you park your car, you can keep the keys with you, so you can be sure that no one will touch it.
The cost is about 80€ for a week, and although it is not the cheapest parking lot, I think given the services offered, the value for money is very good.
Address: via di Francia 5C – 16149 Genova GE
Phone: +39 342 329 0928
Opening Hours: MON – FRI 08:30 – 19:30; SAT – SUN 08:30 – 15:30
Reviews: 4.6 out of 5
Notes: maximum height for access 2.20m
Prices: weekly rate from 80€
Park Torre Sud
The cheapest Genoa cruise parking
Torre Sud is a parking lot located about 1.5km from the MSC ship check-in and a 500-meter walk from the ferry terminal.
The parking lot is monitored 24 hours a day by surveillance cameras and offers more than 200 indoor parking spaces. Just like its predecessor, at Park Torre Sud you keep the car keys, so you are sure your car will not be touched by anyone.
It does not offer a shuttle service, but to reach the terminal while unloading your luggage you can call +39 010 5966 to book your cab (paid service), which will take you to the ship boarding in just a few minutes.
Address: Via de Marini, 21-23, 16149 Genova GE
Tel: +39 335 6747921
Hours: N/A.
Reviews: 4.2 out of 5
Prices: weekly rate from €60
Garage Ponte dei Mille
Genoa cruise parking that allows you to drop off and pick up your car at the ship's entrance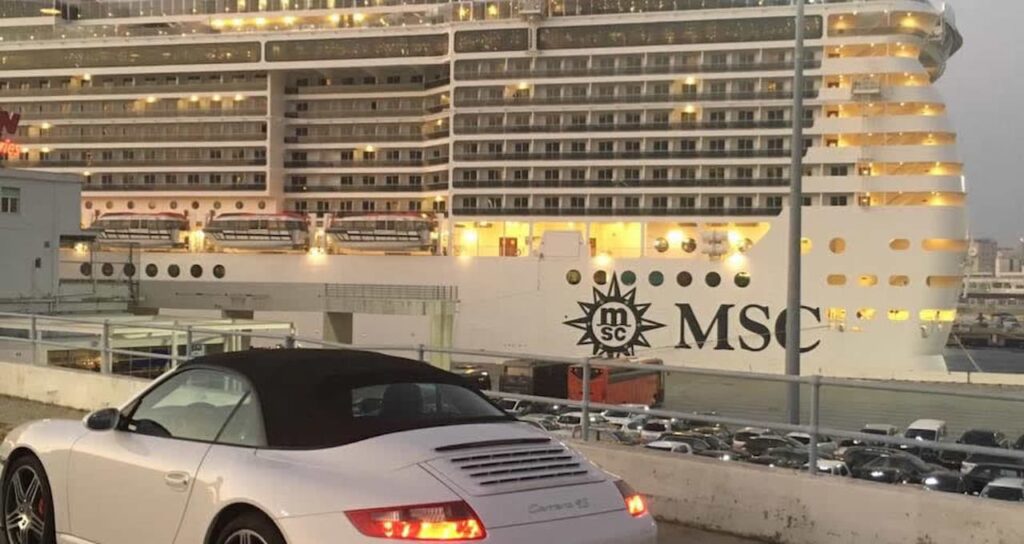 Garage Ponte dei Mille is a parking lot affiliated with the MSC Cruises company.
Unlike other parking garages, Ponte dei Mille offers car pickup and drop-off service directly at the embarkation docks.
It means that you will have to go with your car directly to the embarkation decks, where you will be waited for by Ponte dei Mille Garage staff, who will pick up your car and return it to you once your cruise is over.
The parking lot is guarded, as well as being under 24H video surveillance via CCTV system.
It also offers parking service for large cars, RVs and vans.
In short, it is the ideal Genoa cruise parking if you want to drop off and pick up your car directly in front of the ship embarkation.
Address: Via Rubattino, 9 – 16126 Genova GE
Tel: +39 010 2462613
Hours: Daily from 7 a.m. to 8 p.m.
Reviews: 4.1 out of 5
Prices: weekly rate from €80
Autosiloport
The cruise parking lot closest to the ship's embarkation
Autosiloport is the only parking lot located inside the Port of Genoa, just below the Maritime Station, 30 meters from the pier and 300 meters from the Cruise Terminal.
After going to the Cruise Terminal, you will find Autosiloport employees who will collect your luggage and show you where to park your car. Once you leave your car, you can conveniently walk to the ship's entrance in less than 2 minutes.
It is a covered parking lot, video monitored with a 24H CCTV system and is insured against theft and fire.
It can accommodate cars, RVs, buses, trucks or vans up to 4.20 meters in height. It is requested to leave the keys with the staff.
Address: Calata Ponte dei Mille – 16126 Genova GE
Tel: +39 010 275 8482
Hours: Daily from 7 a.m. to 8 p.m.
Reviews: 4.5 out of 5
Prices: weekly rate from €80
More parking for Genoa cruise
WHEREAS, the four parking lots I mentioned above are, in my opinion, the best. If you should not find availability (especially during peak season) you can try contacting Autorimessa Columbia and Parking Pedemonte. These are two garages located slightly away from the Port of Genoa that offer 24-hour parking and car care service.
Map of Genoa cruise parking lots
Cruise parking Genoa: FAQ
Which parking lot should I use?
If you need to park your car, I personally recommend Lanterna Parking. It is the best for value for money, as it also offers free shuttle service. The online reviews are great, and I have personally had quite a bit of feedback from cruise passengers who were very comfortable.
On the other hand, if you need to park a large car (such as a van, RV or even a coach) I recommend Autosiloport, which is located right below the Maritime Station, just a few meters from the ship's embarkation dock.
Can I park for free anywhere during my cruise?
It would be great to be able to park for free, but I do not recommend it. The Port of Genoa is located just a stone's throw from the city's historic center, where, due to the lack of space, it is very difficult (if not impossible) to find free parking. However, you can check out my article on where to park in Genoa.
What time should I arrive if I am parking?
If you plan to leave your car in one of the parking lots I recommended, I suggest you arrive 45 minutes before boarding. So if you have to embark at noon, arrive at 11:15. This will give you a chance to park without stress, find your way to the ship, and check in.
If you plan to park in a more distant parking lot, I recommend arriving at least an hour before you plan to board.
Do I need to reserve a parking spot before I arrive?
Yes. I suggest you make reservations in advance to make sure the parking lots have available spaces. Should you find yourself without a parking space, you risk having to rush through everything.
Where do you take the ship in Genoa?
The Port of Genoa is within walking distance of the center of Genoa. The passenger terminals dedicated to cruise ships are the Porte Andrea Doria and the Ponte dei Mille. The Terminals located at Ponte Caracciolo , Calata Chiappella, Ponte Assereto and Ponte Colombo, on the other hand, are dedicated to Tirrenia, Moby and GNV ferries.
Where do MSC cruises depart from Genoa?
From Ponte Andrea Doria and Ponte dei Mille.
Port of Genoa parking: conclusions
Here we come to the end of this article on where to park your car in Genoa for cruising, in which I told you which are the best parking places near the Port of Genoa, ideal for those who want to leave their car in custody during their cruise.
Do you have any doubts or questions? Feel free to write to me. I will be happy to help you.
If, on the other hand, you plan to spend a night in Genoa before you leave for your cruise, I suggest you check out my article on where to sleep in Genoa.
A hug,
Andrea
Credits