Are you planning a visit to Genoa and want to eat traditional Genoese dishes without spending a fortune?
Well, you've come to the right place.
I am Andrea from Discover Genova, Genovese DOC and lover of my city, and in this article I will tell you which are, in my opinion, the best Genoese trattorias (also open on Sundays) to try at least once in your life.
Are you ready for this? Let's get started!
What is the best Genoese trattoria?
If you are looking for a restaurant in Genoa where you can eat accompanied by a convivial atmosphere and simple and genuine dishes of Ligurian tradition, a trattoria is the place for you.
Although this type of restaurant has been a bit 'put aside in recent years to make room for the most modern and in places, there are still many restaurants in Genoa that offer a shapshot of the past, among the atmosphere and traditions of the past.
Here is the list of my favorite trattoria restaurants in Genoa where you can find a good dish of pasta with pesto and other typical Genoese food.
Trattoria delle Grazie Genova
A trattoria that will make you feel right at home.
On the menu there are always delicious genuine and seasonal dishes.
Try, of course, pasta with pesto (with a strong but delicious taste), pansoti with walnut sauce, cod fritters (among the best I have ever eaten) and stuffed muscles, appetizing but delicate.
The restaurant is small (like all the other trattorias in the historic center of Genoa), so I suggest you book in advance.
It is one of the best trattorias in Genoa city centre and is open also on Sundays.
Address: Via delle Grazie 48, 16128 – Genoa
Opening hours: Monday and Tuesday 19.15 – 22.30, Thursday to Sunday 12.15-14.45, 19.15-22.30
Prices: $$

$

$

Telephone: +39 010 869 8240
Trattoria Ugo Genova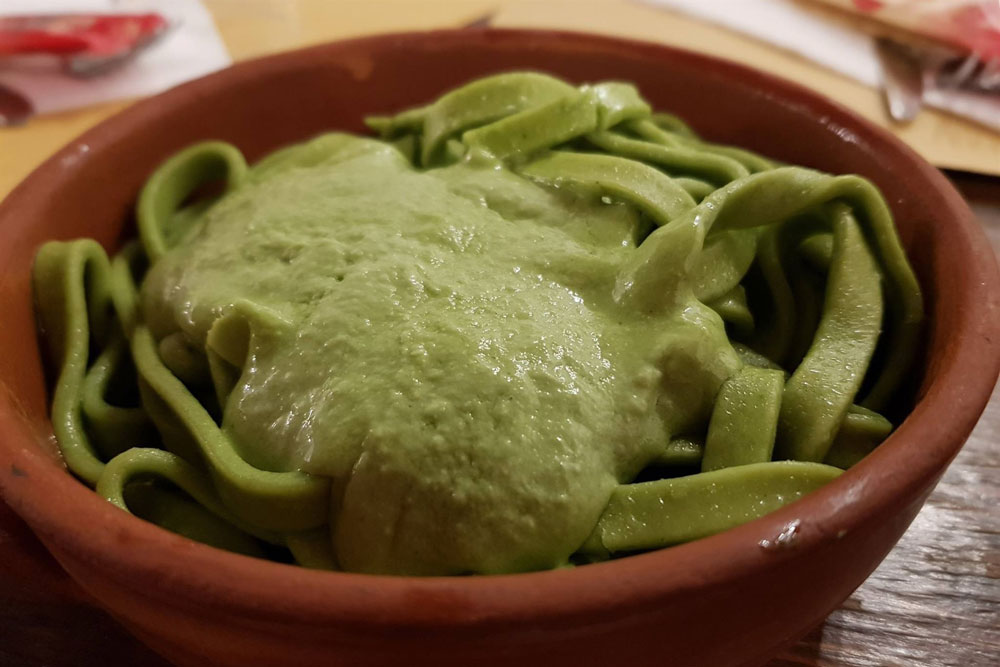 Another family-run trattoria located right in the city center, in one of the many alleys of the historic center.
Here you can find abundant and high-quality dishes with an excellent value for money.
It is one of the trattorias where the best pesto of Genoa is served, accompanied by potatoes and green beans, as tradition dictates.
If you are a lover of Genoese culture, you should also try tripe, Ligurian soup, stuffed anchovies or cuttlefish Ugo.
Address: Via dei Giustiniani 86r, 16123 – Genoa
Opening hours: Tuesday to Saturday 12-14, 19.30-22
Prices: $

$$

$

Telephone: +39 010 246 9302
Ostaietta Genova
Located just a few steps from Genova Brignole train station, this informal trattoria is the perfect place to try typical Genoese cuisine, starting with brandacujun (cod), moving on to pasta with pesto and a second course of fish, before finally ending with a traditional Ligurian liqueur.
The prices are incredibly low, and is, in my opinion, one of the best restaurants in Genoa where you can eat well for a small fee.
The place is small and almost always full, so I recommend booking well in advance.
Address: Via Canevari, 280r, 16137 – Genoa
Opening Hours: Tuesday and Sunday 12-15, Wednesday to Saturday 12-15, 19:30-22:30, Monday closed
Price: $

$$

$

Telephone: +39 345 982 9289
Trattoria Rosmarino Genova
Located behind Genoa's most central square (De Ferrari), this trattoria welcomes you in an elegant and very comfortable environment, with high quality dishes and wines at reasonable prices.
Its strengths are its fantastic value for money, the central location and the kindness and professionalism of the staff.
Address: Ascent of the Fondaco, 30 – 16100 Genoa
Opening hours: Monday to Saturday 12.30-14.30, 19.30-22.30
Prices: $$$

$

Telephone: +39 010 251 0475
Trattoria dell'Acciughetta
Well, if you've read some other article on my blog, you'll realize that I've included it in almost all my rankings of the best restaurants in Genoa, and here's why.
Known as a landmark for fish lovers, the Trattoria dell'Acciughetta has been at the forefront of Tripadvisor Genova since its opening in 2015.
With a very young, kind and extremely prepared staff, it offers a creative Ligurian menu based on blue fish and is, in my opinion, one of the best trattorias in Genoa.
Address: Piazza Sant'Elena, 16126 – Genoa
Opening hours: Tuesday to Sunday 12.30-14.15, 19.30-22.00
Prices: $$$

$

Phone: +39 010 869 3918
Ostaia do Castello
The atmosphere is reminiscent of the old Genoese taverns and the menu is totally based on traditional dishes, first of all the delicious mandilli with pesto and the tasty fish buridda.
Two young and always smiling guys welcome you, and a simple but tasty cuisine.
Address: Ascent of Santa Maria di Castello, 32r, 16123 – Genova GE
Opening hours: Tuesday to Friday 12.00-14.00, 19.30-22.00; Saturday 19:30-22:00; Sunday 12:30-14:00
Prices: $

$$

$

Telephone: +39 010 860 2064
Trattoria della Raibetta
Located in a historic building of the 700 with rustic furnishings and brick vaults, the Trattoria della Raibetta will truly feel like a trip to the past.
The dishes are simple, according to tradition, but with attention to detail; the cuttlefish and shrimp served warm are a real treat, the staff kind and professional.
Absolutely recommended for a lunch or dinner based on traditional Genoese dishes.
Address: Vico Caprettari, 12r, 16123 – Genoa
Opening hours: Tuesday to Sunday 12.00-14.30, 19.30-22.00
Prices: $$

$

$

Telephone: +39 010 246 8877
What are the typical Genoese dishes?
If you are a tourist visiting Genoa, I imagine that before going to eat at the trattoria you will want to do a little research on what the must-try Genoese specialties are, right?
First courses
Well, we start with pesto, the sauce made with basilico di Prà (a district of Genoa) that has become famous throughout the world, and then move on to pansoti with walnut sauce: a pasta filled with vegetables seasoned with a delicious sauce made of cream and walnuts.
Second courses
Here we must absolutely talk about fish: squid and fried anchovies are among the most popular specialties, and then there is the stockfish (which in Genoa is eaten "accommodato", or with pine nuts, olives and potatoes).
Then we move on to vegetable cakes, which come from a poor cuisine, carried on to the present day by the ancient Sciamadda of the center, among the most famous, I recommend you try the Pasqualina cake: a puff pastry filled with chard, peas, artichokes and presinseua (a typical Genoese cheese).
We conclude this excursus on the main courses with tripe (only for strong stomachs) and cima (a piece of veal stuffed with a mixture of ingredients such as eggs, peas, pine nuts, cheese and herbs).
Foccacia and Farinata (Le focacce e farinate)
Known throughout the world, the traditional focaccia and that of Recco are among the most famous Genoese specialties in the world. The first one is dry, while the one in Recco is filled with stracchino: a delight.
Have you ever heard of farinata? It is a mix of oil and chickpea flour, thin and crispy, with a touch of softness inside that you absolutely must try.
Conclusion
Well, these were the 7 best trattorias in Genoa.
Now I'm going to turn it over to you: which do you think is the best? Have you tried any more and would you like to recommend a few?
If you have any doubts or questions, leave a comment below or read my guides about the best restaurants in Genoa where you can eat well for a small fee or about the restaurants where you can eat the best homemade Genoese pesto.
Enjoy your meal ;-P
Andrea