Planning a holiday in Portofino and looking for accommodation in the centre or with a sea view? Do you want to know which are the best luxury, boutique or budget hotels located in and around Portofino?
You've come to the right place.
In this article, you will find out where to sleep in Portofino, whether you are travelling as a couple or with your family.
Portofino Hotels: The Best Luxury and Boutique Hotels in Portofino
Looking for a good hotel in Portofino will always be difficult.
Partly because, as my experience shows, there is no shortage of hotels here. In fact, the possibilities could be so great that you'll be spoilt for choice.
However, don't fret, the good news is that I can help you book the best hotel for your needs – well, by putting my knowledge of hotels in Portofino at your disposal.
All you need to do is simply read this guide to hotels in Portofino: in the end, you will be able to choose the best solution for your needs!
Hotels in Portofino – 3 Stars
If you are looking for a three star hotel in the Portofino area, you won't have much trouble finding several hotels that could meet your needs.
Hotel Nazionale in Portofino
Among the main ones, you should consider the Hotel Nazionale in Portofino.
This is a historic hotel for this small town that overlooks an exclusive setting and for years has been one of the best solutions for all those who come here for various reasons.
Well suited to students, workers and families, it represents a solution that combines quality and convenience.
Moreover, it is a historic Portofino hotel, and it is not by chance that history, nature, art and a beautiful blue sea find their perfect union here.
It is precisely this hotel that is considered to be on a par with a pearl of those that are rare to find elsewhere.
In addition to its various advantages, it is also in a special location.
The Hotel Nazionale in Portofino, in fact, is only a few minutes' walk from both the local port and one of the most famous squares in Portofino.
For this reason, from the window you can admire the beautiful landscapes of the surrounding nature, including the various characteristic corners of this place, as well as the famous cliffs overlooking the sea.
In addition to the beautiful views, there is also the good cuisine.
The dishes in this hotel are served directly from a restaurant called "Da Nicola".
In the same, you can order various dishes of Ligurian cuisine (either vegetable, meat or fish based) without spending too much.
The raw materials of the restaurant are always of high quality, and the taste is rivalled by few.
Hotel Eden Portofino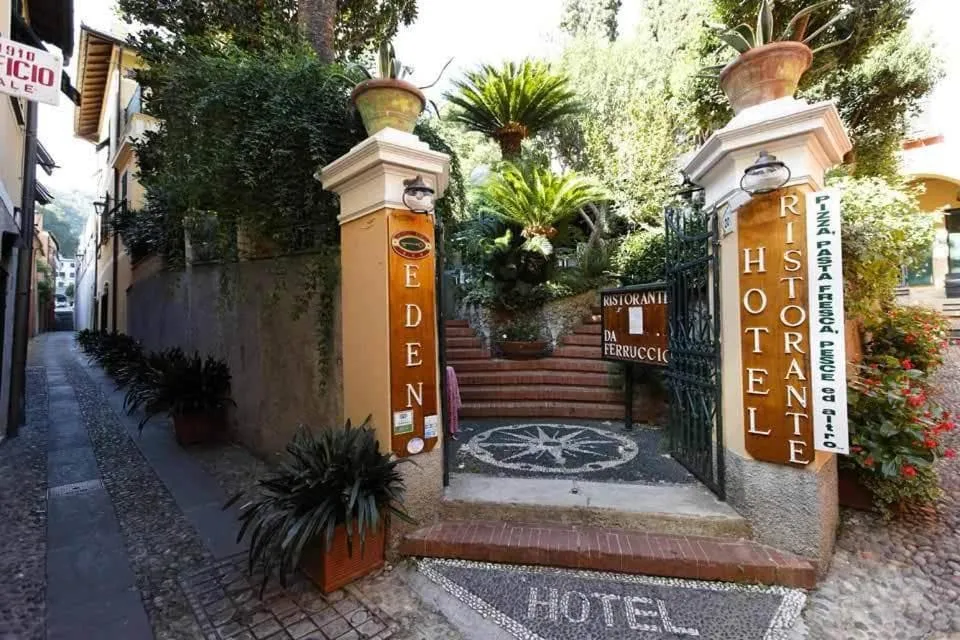 Another hotel located in the immediate vicinity of the beautiful local port is the Eden.
This hotel is located in the heart of the local village of Portofino, which today is a favourite tourist destination for a wide variety of travellers.
The hotel in question includes a small garden and a restaurant that prepares food according to traditional Ligurian recipes.
The hotel includes a wide variety of rooms with different styles, although all have air conditioning and a wide range of very different decorations (all in the typical rustic style that characterizes this hotel).
The floors are made of parquet and in the rooms you can watch satellite TV.
Among the selling points of this hotel, we must also mention the competence and professionalism of the staff who work there.
They are, in fact, always very friendly and helpful, while the environment is very homely: great for feeling at home abroad.
Hotel Approdo Rapallo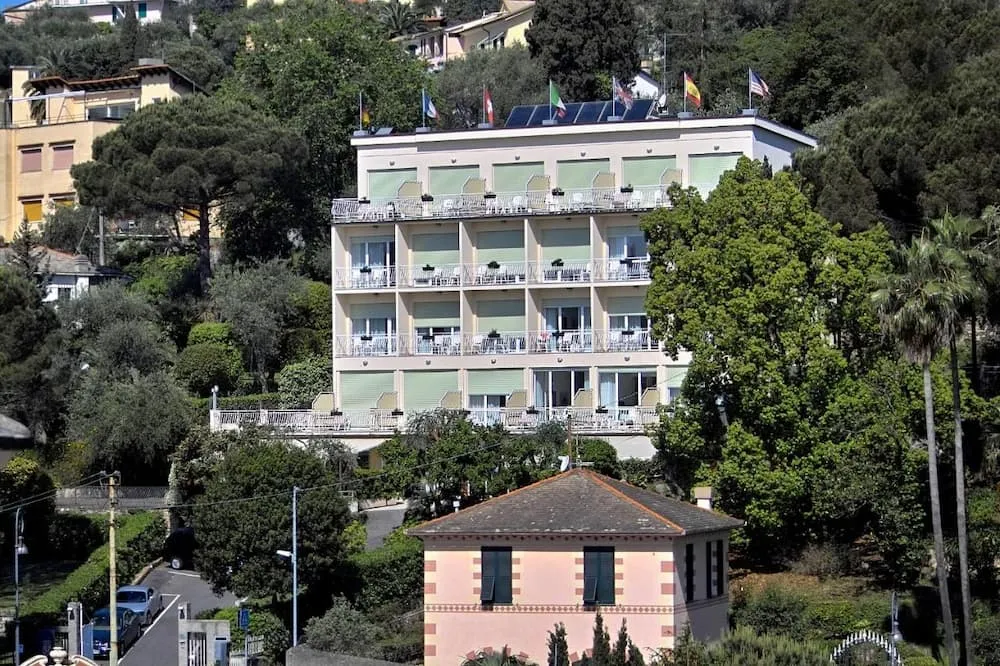 Hotel Approdo Rapallo is also worth mentioning, as it's one of those hotels that will make your holiday wonderful from start to finish in every aspect, without breaking the bank.
As you can guess, the hotel is not really in Portofino, but in a small town 8km far from this Ligurian village: Rapallo.
Nevertheless, it is still one of those solutions that you cannot ignore.
In all rooms, there is an air conditioner, and each one is equipped with a bathtub.
In addition, many rooms include fantastic balconies from which you can admire the beautiful nature around you.
The view of the sea is one of a kind.
In addition to this, the mattresses are very comfortable and the beds fairly large, so you can be guaranteed an extremely long and comfortable sleep.
In addition to the various amenities, there is free Wi-Fi and a television in every room.
Hotel Riviera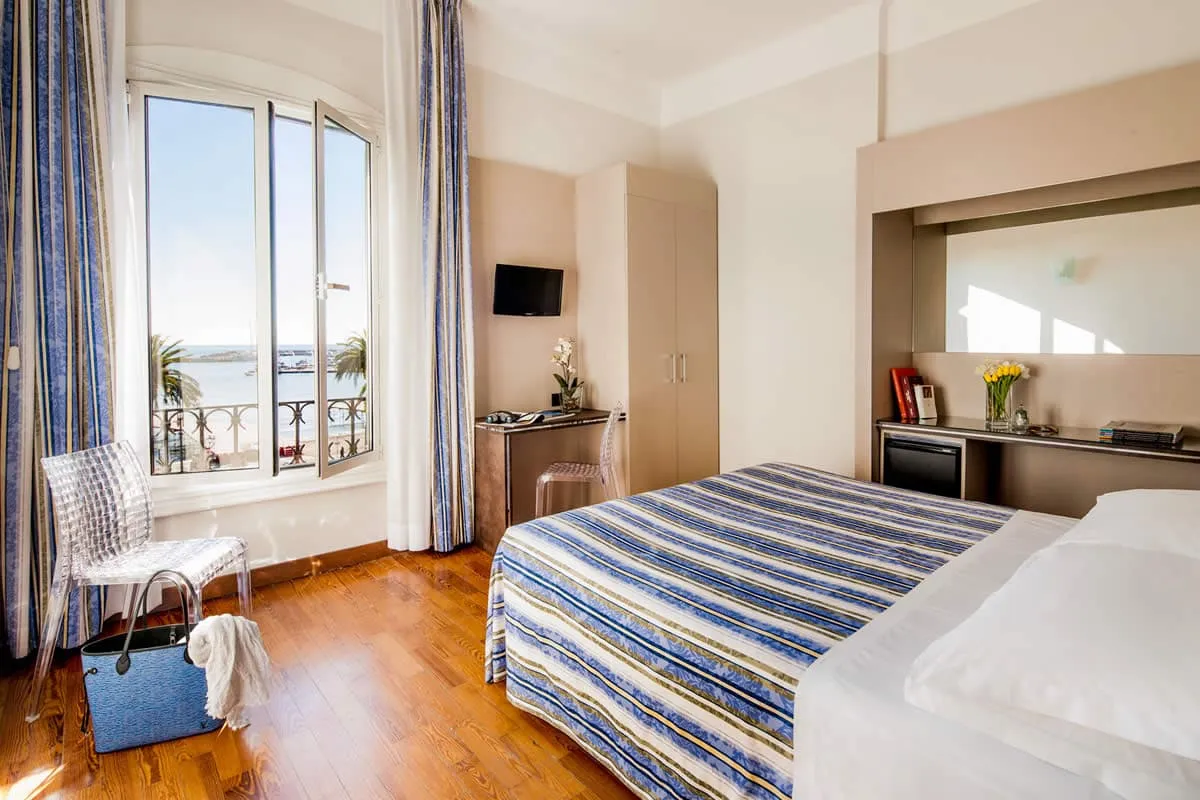 Make sure to also remember the Hotel Riviera in Rapallo: this hotel is able to provide valid solutions to many of your problems, giving you the opportunity to take advantage of an top notch quality without spending too much.
The atmosphere here is a calm and relaxing one, like the nature that surrounds it.
The staff is well qualified, and the food prepared is quite varied.
Although the cost is not at all high, reaching a beach from this hotel is really easy because it is located on the Ligurian Coast: admiring the sea from the hotel, you can be enchanted by the sea views.
4 Stars Portofino Hotels
Hotel Piccolo Portofino
If you are looking for a villa set up as a hotel in Portofino, you cannot ignore the Hotel Piccolo.
This hotel, in fact, is located right in a historic villa, which includes not only a rocky beach with lots of bars but elegant interiors as well.
The interior design here has been done really well and you can see it right away.
All the decorative details have been handled down to the smallest detail and nowadays you can effectively consider the interior appearance of the Hotel Piccolo in Portofino as one of the most artistic ones around.
Many rooms have a private balcony to give you the opportunity to admire the sea views all around.
In addition, the various minimalistic decorations create an atmosphere that is absolutely noteworthy.
There are satellite TVs in the rooms, which allow you to watch a wide range of free and pay-per-view channels.
Astoria Hotel in Rapallo
Moving towards the hinterland of Rapallo, 8km kilometres from Portofino, the hotel Astoria stands out.
This is a 4-star, family-run hotel.
The entire hotel is located in a brand-new villa built in typical Art Nouveau style, which, in turn, is located on the promenade of Rapallo.
The hotel offers free Wi-Fi, and the rooms are very elegant.
Almost all of them have satellite TV and air conditioning.
Many rooms also overlook the Gulf of Tigullio.
In addition, the various rooms are even equipped with numerous mini bars that you can use to make your stay at the hotel more enjoyable.
Do not ignore the various possibilities offered by the restaurant, as you would risk missing out on some of the most unique tastes of the entire area.
5 Star Hotels in Portofino
Eight Hotel Portofino
If instead, you wanted to stay in a boutique hotel in Portofino Italy, you could immediately turn your attention to the Eight Hotel Paraggi, which stands on the bay of Paraggi offering visitors the opportunity to take a dip in breath-taking nature that truly overwhelm your emotions.
The hotel in question is one of those where luxury reigns supreme.
You can feel the almost imperial atmosphere right from the start.
In addition to the main structure, there is a beautiful restaurant located directly on the beach: it offers a wide variety of meat and fish dishes, not only Ligurian in origin, but also Italian and even international.
Staying at the Eight Hotel, you can also admire the beauty of a small private beach set up specifically for all those who want to experience a holiday in complete privacy, without sacrificing the immense advantages of a 5-star hotel.
Among the other special features of this hotel, the modern lounge bar stands out, and is the perfect place to have a drink while enjoying a magnificent view of the sea.
Belmond Hotel Splendido Portofino Italian Riviera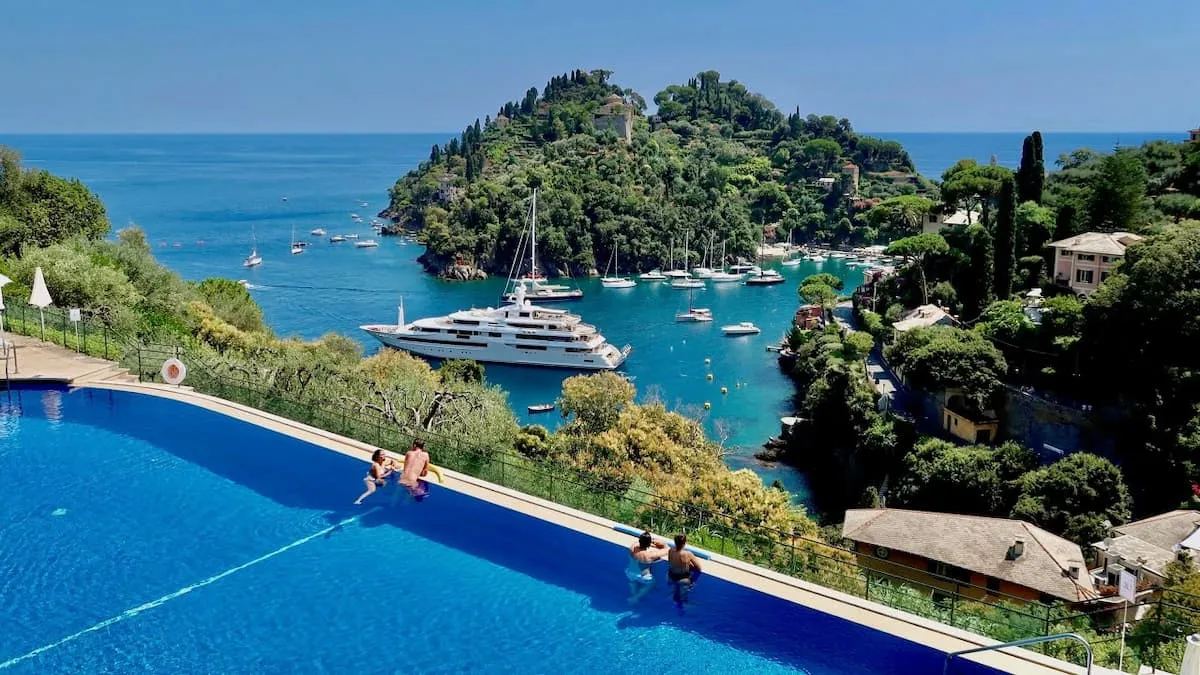 Speaking of the best luxury hotel Portofino, it would be difficult to ignore a hotel like the Belmond Hotel Splendido.
It is a hotel that more and more people describe as the most enchanting in all of Portofino.
In fact, this hotel is located in the middle of hills of extraordinary beauty and is completely surrounded by a natural wonders that are indescribable to say the least.
This resort reflects the best of the Riviera of Liguria, and nowadays you can effectively consider it as one of the hotels not to be missed.
The gastronomic experiences offered are extraordinary, and if you want to experience the real thrill of luxury, you can relax in the saltwater pool.
This hotel is ideal for romantic stays, those for two: you will hardly be able to forget the experience.
In addition to luxury, there is also a large choice of rooms and suites: there are 70, all with their own character and personality, each one almost unique, as well as a piano bar, a bar near the pool and 3 restaurants.
Staying here you can enjoy a large wellness center, a heated outdoor pool, visit a well-equipped gym and children can try many different activities.
Excelsior Palace Hotel in Rapallo
Moving from Portofino to Rapallo you will find another luxury hotel: The Excelsior Palace Hotel.
It is a 5-star hotel that is visited by crowds of tourists almost every year.
The luxury here is extraordinary.
Just think that this is a historic hotel, where many famous people have stayed.
Nowadays it has been brought to its early 1900s glory.
In each room, you can enjoy an unforgettable view of the sea that has thrilled many writers and painters throughout history.
This hotel is open practically throughout the arch and has two restaurants: Lord Byron (the inside one) and Eden Roc (the terrace overlooking the sea), as well as several bars, such as the Yachting Bar and the Sporting Bar.
In short, if you need a historical choice that can impress anyone, the Excelsior Hotel is for you.
Where to sleep in Portofino?
In addition to the possibility of staying in hotels, in Portofino, you can also sleep in many other places.
There are several hostels that you choose from use to spend the night in Portofino.
For example, you could turn your attention to the Fontanabuona hostel.
This hostel is quite cheap and will still allow you to access a high quality of service.
The rooms are well maintained, and the staff is always there to offer you the opportunity to take advantage of all their knowledge and skills.
Over time, this hostel has distinguished itself for the high professionalism of its staff.
Here, moreover, you can always get the most varied advice and suggestions that are provided to the guests of the restaurant by the staff.
So, you can ask for more varied information on travel or use the experience and knowledge of the staff in other ways.
In addition to the hostels, you may also consider other possibilities.
For example, lately, Bed and Breakfasts have become more and more fashionable.
These are places that offer you the opportunity to spend the night on a comfortable bed and in the morning enjoy a breakfast prepared by the accommodation owners.
Among the main ones, the B&B Tre Mari stands out, which is located directly on the coast.
In this bed and breakfast, you can not only have a full and satisfying breakfast but also enjoy a fantastic view of the sea.
Prices are constantly monitored and kept at extremely reasonable levels to give everyone the opportunity to take advantage of the quality offered.
Finally, remember also the possibility to rent private apartments in Portofino for a short time.
This is the best solution if you need a home all to yourself, with a bathroom, kitchen and everything.
Nowadays there are many people in Portofino who provide guests with the opportunity to use a real apartment.
Among the many are, for example, the apartments of Garaventa Angelo.
Is it better to sleep in Portofino or in Santa Margherita Ligure?
Honestly, both locations are great for sleeping, as they are tourist towns with a high range of hotels, hostels and bed and breakfasts.
Finding a room to sleep in in both is extremely easy.
The prices do not differ much and offer everyone the opportunity to stay in a truly extraordinary natural setting.
In addition, both towns are very clean and tidy, so much so that from this point of view you cannot find a better one.
Santa Margherita Ligure, just like Portofino, overlooks the local sea and allows you to enjoy great food.
In fact, in the vast majority of restaurants and bars in Portofino or Santa Maria Ligure you can only taste typical Ligurian dishes, that have become famous throughout the world for their immense taste and flavour.
Obviously, you have to consider the proximity to the beach you want to visit.
In some cases, therefore, it may be better to sleep in one location than another for the sole factor of proximity.
However, if you have a car at your disposal, you won't have much trouble getting to even the most hidden beaches.
Both Portofino and Santa Margherita Ligure are well connected with the dense motorway network of Liguria, but movements could be slower because of the traffic in both towns.
In fact, these are two very famous tourist resorts and visited not only by Italians but also by foreigners.
So, don't be surprised if you see lines of cars on their streets.
For the rest, the selection of places to sleep may be slightly larger in Santa Maria Ligure than in Portofino (also because it is a slightly larger town).
Nevertheless, you will only need to do a little research to understand that you can sleep peacefully in both places, enjoying all the comforts you need.
Portofino Italy Hotel on the water
Portofino is one of those towns that are located in the immediate vicinity of the sea, which is why you won't have much trouble finding hotels by the sea in this town.
Among the main ones mentioned above, which are located so close to the sea that they can be considered for all intents and purposes as hotels by the sea: the Belmond Hotel Splendido, the Piccolo Hotel and others.
In addition to those mentioned, however, there are also other hotels by the sea in Portofino.
If you wish to stay by the sea, make sure to consider staying in the hotel Bella Vista.
It is located just 80 meters from the center of Portofino and offers all the exclusive quality of a hotel that has absolutely nothing to envy to many other hotels far more famous.
Among the accommodation options by the sea in Portofino, private apartments also stand out, such as the Altido Stylish Seaview Apartments in Portofino.
Although these are not hotels, they still give you the opportunity to access a high quality of services, giving you the pleasure of staying in rooms well cared for down to the last detail.
Also don't forget the Belmond Hotel Splendido Mare (different from the Belmond Hotel Splendido).
The Belmond Splendido Mare is located in the immediate vicinity of the beach and is one of the favourite hotels for all those who want to stay directly near the sea.
The prices here are not cheap and reflect the quality of service offered.
The numbers of people who choose to stay at such luxury resorts are not few; quite the contrary: their number is increasing considerably from year to year.
If, on the other hand, you are looking for a villa by the sea in Portofino, then make sure to check out Villino Rosella.
It is a luxury property with fairly high prices.
This villa is especially suitable for those who want to have a wonderfully luxurious holiday, but you have to be prepared to spend a lot.
Finally, also remember to check out the hotel Stairway to Portofino which is located a few hundred meters from the local sea.
The services offered at this hotel are many; your comfort will always have the highest priority.
Cheap Hotels in Portofino
Do you want to spend a holiday in Portofino without breaking the bank?
Then remember the Hotel Nazionale in Portofino, which we have already talked about.
As already mentioned the hotel combines a wide range of positive features and allows you to stay in a very elegant room without making you spend too much.
Probably, for this reason, there are many people who turn their attention to the Hotel Nazionale.
Remember, however, this is not the only budget hotel in the area.
For example, you could consider staying in Flora Apartment: the prices are extremely low and you can access very clean rooms with various accessories for your comfort.
The only flaw is that Hintown apartments of this type are a bit far from the sea, which is why you you would have to travel quite a bit everyday.
On the other hand, you can take advantage of discounts and promotions at the Hintown Stylish Seaview Apartment complex.
In this case, you can both enjoy very low costs and enjoy magnificent views of the sea.
Another very similar low-cost solution is the Hintown apartments in the Viacava House.
The apartments of this type are not few at all and, on the other hand, allow you to enjoy well-ordered rooms without you having to spend too much.
If you want to stay in Portofino while saving money, remember all the 3-star hotels (especially Eden) I mentioned earlier.
The prices of the rooms in the same, in fact, are constantly kept at very sober levels and booking a room in advance will save you money.
Also, keep in mind that room prices during the high tourist season increase considerably.
For this reason, you should consider staying in one of the hostels located in Portofino.
Of course, it's not like staying in a hotel, but it's still a low-cost solution.
Alternatively, you could also stay in a Bed and Breakfast.
Currently, in the territory of Portofino, there are many, and you will certainly find what you need, all while saving a lot (in fact, the cost of staying in a bed and breakfast is much lower than the prices of rooms in hotels).
Conclusion
Here we are at the end of this article about the best hotels in Portofino.
If you are looking for cheaper accommodation, read the list of the best B&B in Portofino and surroundings.
Need more info? Leave a comment below.
Happy holidays,
Andrea