You're going to visit Genoa, but you don't know its typical dishes?
Hi, I'm Andrea from Discover Genoa and in this post we are going to explore 10 Genoese specialities you must try at least once in your life.
Are you ready to find out the best typical food in Genoa? Let's start!
Typical Genoese Dishes: 
10 Things You Should Eat in Genoa at Least Once in Your Life
As a seaside town, Genoa managed to blend different cultures — even culinary cultures — thanks to the many goods and people passing by throughout the years.
Today, it is a modern city with strong food traditions: there are numerous Genoese culinary specialities that a visitor who loves to respect traditions and eat delicious food can taste.
Before leaving, you should know the Ligurian specialities, so that you can try them all!
Pesto
Who doesn't know pesto?
This sauce is now well known all over the world, but its origins are Genoese and only here can you eat the real pesto with Prà basil.
One of the Genoese specialities you can't miss: you can use it to flavour pasta (for instance trofie, testaroli, gnocchi), bread or bruschetta, but you can also try it on its own.
Genoese, like us, put it on everything!
Click here to find where to eat the best pasta with pesto in Genoa Italy
Pansoti with walnut sauce
It is pasta stuffed with vegetables and covered with delicious sauce made of cream and walnuts.
Dedicated to refined palates.
It is a typical Genoese dish you absolutely can't miss.
Fried squid and anchovies
Visualizza questo post su Instagram
Genoa is a port city with a long tradition of cooking what is fished there.
The fish is fried flawlessly in the historical chip shops of the old town: it's light and dry!
Salt cod
Different country, different salt cod.
In Genoa you'll eat it "accomodato" (prepared through a long process) with pine nuts, Taggiasca olives and potatoes.
Cheese focaccia
Typical product from the tradition of Recco.
A delicacy you can eat almost exclusively in Genoa's province.
In the past few years, it managed to obtain the PGI (Protected Geographical Indication) seal.
You should also try its variants.
Farinata
Put in the oven while still in a liquid state, it's a mix of olive oil and chickpea flour.
The best one is thin and crisp on the surface, but soft inside.
Focaccia
Visualizza questo post su Instagram
It is known all over the world, but perfectly made only in Genoa.
And not everywhere — only in the best places.
The Genoese even immerse it in their latte at breakfast! It's a real landmark.
Vegetable pies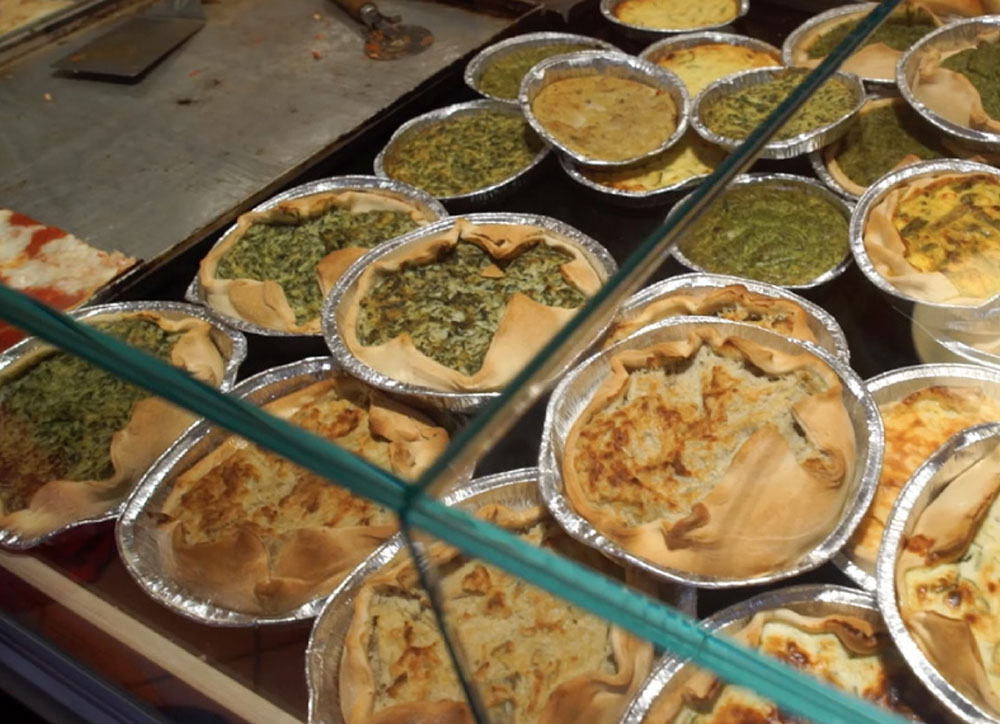 It's true, you can find hundreds of vegetable pies on the world, but every country and region has its own specialities.
The Genoese ones come from the cooking of poor people, which was passed down thanks to the old Sciamadde of the city centre.
The most famous pie is called torta Pasqualina — it's puff pastry filled with chard, peas, artichokes and prescinseua, typical Genoese sour cheese.
Cima
Cima is a piece of veal stuffed with a mix of ingredients, such as eggs, peas, pine nuts, cheese, herbs and spices and part of the meat itself.
Afterwards, it is cut in slices about 0.5 cm thick with a slicer.
One of the most important Genoese specialities. It's perfect as an appetizer.
Tripe
Ok, maybe it's not for everyone.
But why don't you try it in one of the historical tripe shops of the city?
For the Genoese it's the street food par excellence.
Where to eat in Genoa
If you still have some time to eat something, here are three of my favourite restaurants inside the old town of Genoa.
Ostaia do Castello
The first one is called Ostaia do Castello: when you enter the restaurant, you'll think you have travelled back in time into the historical Genoa. Stone walls, young staff and typical food. Very low prices. Great choice.
Address: Salita di Santa Maria del Castello 32r, 16123 Genoa
Opening hours: From Tuesday to Friday: 12-2 p.m., 7:30-10 p.m. – Saturday: 7.30-10 p.m. – Sunday: 12.30-2 p.m.
Prices: $

$$$
Trattoria Rosmarino
If you are looking for something less rustic and more sophisticated, I suggest Trattoria Rosmarino. It is now known as one of the best restaurants in Genoa — it's the perfect mix of good quality and right prices.
 Fascinating and refined typical food and competitive prices.
 If I've convinced you to go there, I suggest you book, because it's almost always full (especially at the weekends).
Address: Salita del Fondaco, 30, 16100 Genoa
Opening hours: From Monday to Friday, 12:30-2:30 p.m., 7:30-10:30 p.m.
Prices: $$$

$
Locanda PEsciolino
Do you love fish? Then I suggest PEsciolino.
 It's an inn run by wonderful people and located in the heart of the city centre. 
They change the menu almost every day. Have a look at what they offer today: Locanda Pesciolino
Address: Vico Domoculta 14R, 16123 Genoa
Opening hours: From Monday to Friday, 12-3 p.m., 7-11 p.m. – Saturday and Sunday 7-11pm
Prices: $$$$
Conclusion
Here's the end of this long article.
I hope I've helped you find out the typical Ligurian dishes and the best food in Genoa.
If you have any questions or suggestions, leave a comment! 
I'll be happy to read it.
Enjoy your meal 😛
Andrea